The Hullmark Centre 2
5 Sheppard Ave. East, North York, Ontario
1 bedroom from$155.00
2 bedroom from$175.00
1 & 2 bedrooms
1 & 2 bathrooms
Up To 4 Guests
Pet Friendly
30 nights minimum stay
Welcome to your perfect executive short-term apartment rental at The Hullmark Centre – a new and large scale, award winning, mixed use development complex and welcoming urban community that fronts onto a vibrant public plaza. With its stylish residences, premium retail offerings, innovative condominiums and direct access to the Yonge Subway station, Hullmark Centre is a focal point of the Yonge and Sheppard area.
Perfect for any extended stay, executive living at The Hullmark Centre is just 20 minutes north of Downtown Toronto, and Toronto attractions like Ripley's Aquarium, the CN Tower and home venues of the Toronto Maple Leafs, the Toronto Blue Jays, and the Toronto Raptors. The Hullmark Centre is where you'll relax into a modern and elegant fully furnished short-term rental; taking in the panoramic views of the city from your private balcony and stepping into the heart of North York outside your doors.
Whether you're traveling for work, relocating your family or looking for a North York vacation rental, The Hullmark Centre boasts modern, open-concept living with spectacular amenities that include party room with kitchen, private boardroom and event space, rooftop terrace and BBQ's, billiards room, state of the art fitness centre and an impressive pool with sauna. These modern suites are designed for executive comfort and feature stunning luxury finishes, fully equipped kitchen with wide plank flooring, granite or quarts kitchen countertops and backsplash, stainless steel high efficiency appliances, in-suite laundry, designated workspace, complimentary WIFI, private balcony and floor to ceiling windows.
Just steps from fantastic grocery stores like Whole Foods and Longo's you're also within walking distance to the Yonge & Sheppard Centre teeming with retail shops, restaurants, cafés like the Second Cup and Tim Horton's, a Winners, Shoppers Drug Mart, children's clothing stores, banks, dry cleaners and more. And with direct in-building access to the Sheppard Subway and quick access to the 401, 404 and DVP highways you've got the entire city of Toronto within reach.
You'll settle into an elegant, fully furnished short-term rental designed for corporate stays- perfectly located for you to make the very most of your executive stay in Toronto.
House Rules
Check In: anytime after 3 PM
Check Out: anytime before 10 AM
30 nights minimum stay
No smoking
The Space
Amenities
Allows Pets
Elevator
Gym
Hot Tub
In-suite Laundry
Jacuzzi
Leather Furniture
On Site Concierge
Outdoor Space
Parking - On Site
Party Room
Pool
Queen Bed
Sauna
Wifi
Working Space
Balcony
Bathtub
Onsite retail/Mall access
Parking - Indoor
Rooftop Patio
Shower
Meeting Room
Allows Pets
Elevator
Gym
Hot Tub
In-suite Laundry
Jacuzzi
Leather Furniture
On Site Concierge
Outdoor Space
Parking - On Site
Party Room
Pool
Queen Bed
Sauna
Wifi
Working Space
Balcony
Bathtub
Onsite retail/Mall access
Parking - Indoor
Rooftop Patio
Shower
Meeting Room
Close By
ATM
Bar
Cinema
Coffee House
Dining
Gas Station
Metro Station
Public Pool
Supermarket
In the Area
Dog Park
Hospital
Walking Trails
Take a Tour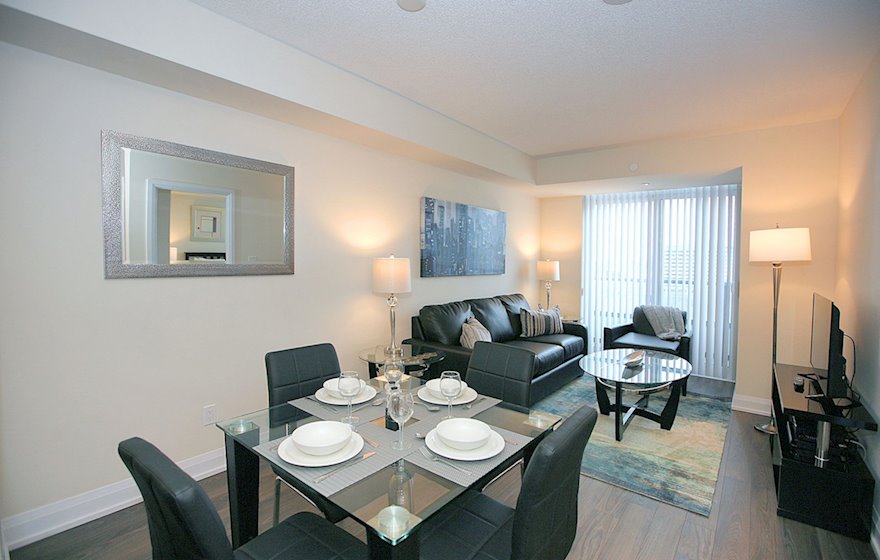 Life in North York
Premiere Suites is Canada's largest provider of move-in ready extended stay executive suites, boasting several exquisitely furnished apartments and co
Explore North York