How Does Corporate Housing Work? Everything You Need to Know
Posted on Friday, October 01 2021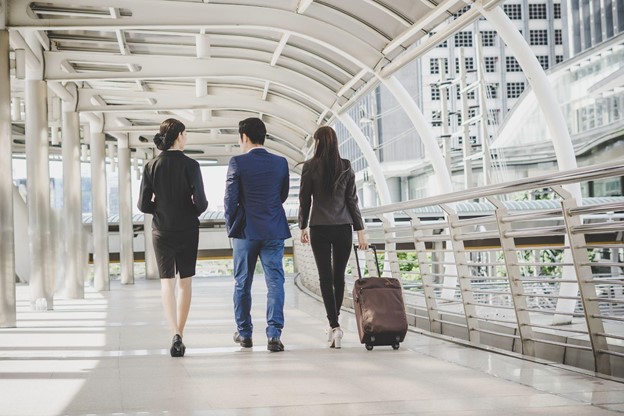 If you're unsure whether you can find a short-term apartment rental for your next trip, don't be. There's suitable accommodation for the price and location you're looking for, whether you're traveling for business or leisure.
Corporate housing is a popular choice among professionals looking for temporary accommodation and even for those traveling for extended periods.
Understanding Corporate Housing
Corporate housing offers a unique experience for individuals, including executives, who are looking for a short-term or extended-stay hospitality service.
This kind of accommodation distinguishes itself from hotels by offering a completely furnished apartment, not just a room. Most times, expenses like rent, Wi-Fi, and utilities are already included in the nightly rate.
The concept of corporate housing was introduced in the 1960s and businesses were soon attracted to this idea. Also known as "executive apartments" or "executive rentals", it is a fantastic option to house employees when they're relocating or staying in a place for a longer period of time.
While predominantly marketed to attract business travelers wishing to stay for more than thirty nights, other audiences, such as medical interns and extended-vacation travelers, are attracted to this type of accommodation too.
How Does Corporate Housing Work?
Are you interested in learning more about corporate housing? Here are some of the steps you'll need to take to rent a place for your extended stay.
Suppose you're booking your stay through a reputable business. You'll likely have to submit a request online to find suitable accommodation that includes your desired location and expected travel dates.
Then, you'll see your options and be able to pick your reservation. Finally, you'll receive instructions by email and you'll be ready for your trip.
Your reservation agreement should give you an idea of how things work so you can make suitable arrangements and enjoy your stay.
Benefits of Corporate Housing
Corporate housing tends to be less expensive than a hotel stay and provides you with a feeling of being at home while you're away.
In addition, it offers a high level of privacy along with comfortable home features. For example, there's no need to constantly go out to dinner or order room service when you have access to a fully equipped kitchen.
But that's not all – for those who prefer quieter places, this type of accommodation might be better as corporate housing options tend to be located in residential areas that are typically less noisy.
As a bonus, you may also end up having access to a swimming pool or fitness room, as is the case in many short-term rentals.
Corporate housing provides a smooth experience as monthly fees typically include all bills (Internet, TV, washer/dryer, etc.) while also providing utilities and a fully furnished space for guests.
The fact that utilities are included and the living area is fully furnished makes the experience even more convenient.
If you think that's all of the perks, think again. Renting corporate housing means you'll have less of a commitment than leasing a private apartment. It's more than just convenient; it's the easiest and most practical option.
Corporate Housing Costs
By now, you already know corporate housing is cheaper than a hotel. But, what's the exact price? It's hard to give an average estimate. Prices vary according to where you'll be staying, how long you'll be there for, the time of the year, and how large of a unit you'll need.
Usually, corporate housing is more expensive than renting an unfurnished apartment for short-term stays.
For extended trips, however, it makes more sense as several companies offer lower rates the longer you stay.
Keep in mind that one-bedroom spaces are usually more pricey than studios. If you're traveling with pets or children, you might also end up paying more. Regardless of what you choose, make sure you're aware of what you're paying for before you rent.
Unquestionably, location will impact the price. As long as you consider other factors, such as the safety of the neighborhood and the commute to your workplace, you'll make a suitable choice.
Suggestions for Toronto Long-Term Stays
If you're a foodie, head down to Kensington Market. This area is known for its vintage stores, but it also has any world cuisine you can think of. From Mexican and Jamaican to Belgian, Chinese and more, there's something for everyone.
If you're looking for a more "hipster" area, then you have to visit Queen West. After all, it was named "one of the world's hippest neighborhoods" by Vogue magazine.
While this area can get a bit pricey, it's worth checking out the ''edgy'' studios, shops, bars, and galleries. It's also the perfect neighborhood to find your lazy morning brunch spot.
The Distillery District should also be a ''must-see'' on your list, especially if you're visiting in the winter and want to explore the Toronto Christmas Market. In the summertime, make sure to check out the Distillery Sunday Market. No matter when you go, you'll enjoy a stroll through the red-bricked Victorian buildings that now house forty boutique shops, restaurants, and bars.
Corporate Housing: Is It Worth It?
If you're looking for a homey, affordable and more private experience than staying in a hotel, corporate housing can be an excellent choice for you.
Are you currently seeking an appropriate place to stay temporarily? We can help you out! Request a quote today.
Tags
corporate-housing extended-stay short-term