15 Things to Do in Toronto In the Summer of 2022
Posted on Friday, June 03 2022
1. Harry Potter and the Cursed Child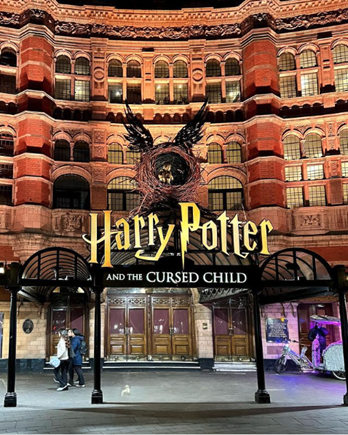 Potterheads, if you're in Toronto this summer, you can't miss this! It's been a long time coming, but the highly-anticipated production of Harry Potter and the Cursed Child is finally coming to Toronto in May. Grab tickets for the whole family and enjoy a magical night as the wizarding world of Harry Potter is brought to life on the Mirvish stage.
According to critics' reviews, you'll be on the edge of your seat from start to finish!
Where: 244 Victoria Street, Toronto
When: Starting May 31, 2022
2. Cirque du Soleil
After a long hiatus, Cirque du Soleil has finally brought its iconic Big Top back to Toronto for a breathtaking performance. Until July, the city will be treated to Cirque du Soleil's most critically acclaimed show, called KURIOS — Cabinet of Curiosities. The performers will take the stage at Ontario Place for a "mind-boggling" limited series of shows that combine acrobatics with art, poetry, and humour.
Where: Ontario Place, 955 Lake Shore Blvd W
When: Until July 2022
3. Canada's Wonderland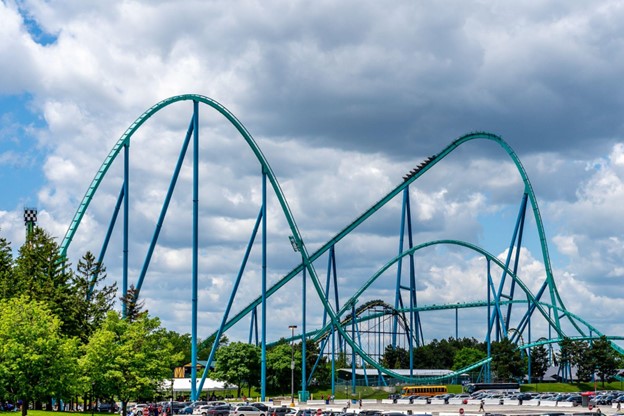 Thrill seekers, this is the place for you! Take a ride on one of the biggest and tallest roller coasters in the world, Leviathan. But don't worry, if that's not your speed, there are 15 other roller coasters and more than 200 attractions to explore.
Indulge in a funnel cake, float down the lazy river, and enjoy lots of kid-friendly rides with the whole family at Canada's Wonderland.
Canada's Wonderland is open daily from mid-May to August, but on weekends only in September and October. Don't forget that you can also hit the water park from June to August.
Skip the lineup and save some money by buying tickets online.
4. Toronto Beaches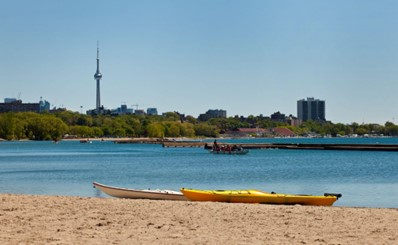 What's better than a sunny day spent at the beach? As a waterfront city, Toronto has loads of beaches to explore, including those on the Toronto Islands! You can walk, run or take your bike on the island, walk your dog (on a leash), visit the 200 year old lighthouse or have a drink at one of the island's restaurants.
If you'd rather stay on the mainland, many Toronto beaches are easily accessible by public transportation, so all you have to do is pack a bag, throw on some shades (and a thick layer of sunscreen), and go enjoy.
Where: Browse Toronto's beaches here
5. The Toronto Zoo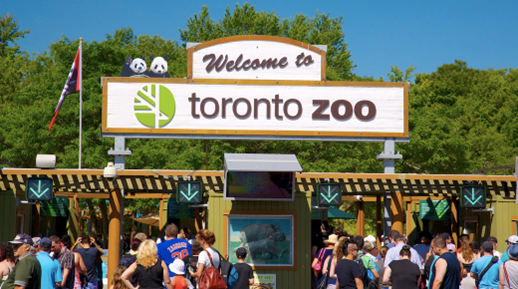 Both kids and adults will get a kick out of visiting the largest zoo in Canada.
The zoo is divided into seven zoogeographic regions - Indo-Malaya, Africa, the Americas, Australasia, Eurasia, Canadian Domain and the Tundra Trek. With around 5,000 animals from all over the world, make sure you plan your trip so you don't miss your favourite animals!
6. Luminato Festival 2022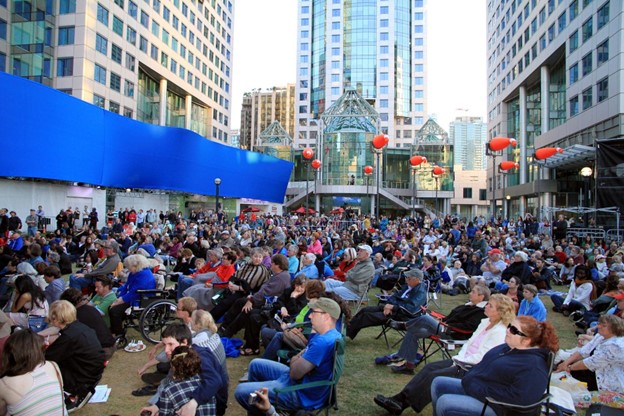 Enjoy an amazing array of arts and culture at Toronto's Luminato, one of the greatest art festivals in North America. For 10 days in June, Toronto's spaces — theaters, parks and less conventional spots — fill with theatre, music, dance and more from over 10,000 artists from around the globe.
Get your tickets here.
7. Toronto Flower Market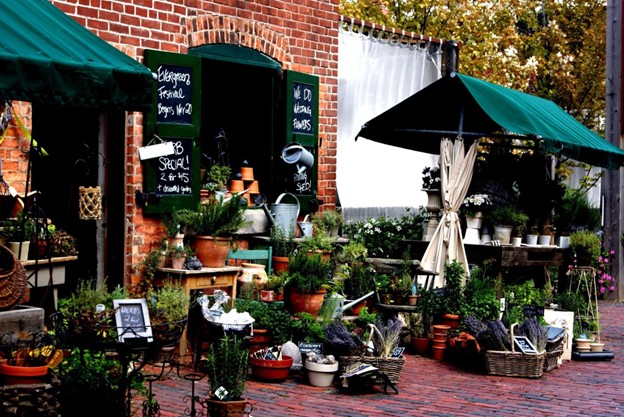 Brighten up your weekends in Toronto by visiting The Toronto Flower Market. This is the city's first outdoor market of its kind and celebrates local growers, florists, craftspeople and gardeners. With all the beautiful blooms you're sure to see, don't forget to take home some souvenirs!
The market season runs monthly from May through October, and its first return is on Saturday, May 7.
Where: 1001 Queen St West
When: Season launch May 7, 2022 at 10 AM
8. Immersive Klimt
The latest immersive art experience in Toronto is Immersive Klimt, a colourful exhibition featuring the artist's bold mosaic-like painting style. The exhibit takes guests on a journey through Gustav Klimt's most famous paintings, including "The Kiss," "Flower Garden," and "The Tree of Life." Through vivid 360 projections, the revolutionary works of Gustav Klimt come to life all around you.
Where: 1 Yonge Street
When: Various dates
9. Food festivals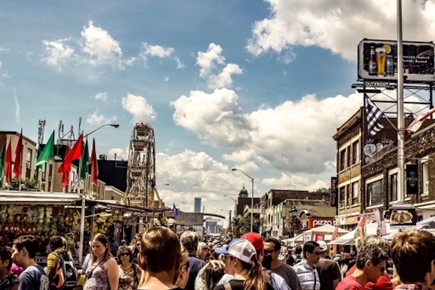 Summer in Toronto isn't complete without a food festival! As one of the most multicultural cities in the world, the city's various neighbourhoods love putting together days-long street festivals that give passersby a glimpse into their food and culture. 2022 is the first year many of these festivals are returning after being canceled due to the pandemic, so make sure you see what they're all about if you can!
Some great options include Taste of the Danforth, Taste of Little Italy, Salsa on St. Clair, Festival of India, Big on Bloor, Redpath Waterfront Festival, and Festival of South Asia.
10. Inside Out 2022
Canada's premier 2SLGBTQ+ film festival returns for in-person and virtual screenings in May. For nearly three decades, this event has brought together people of all ages, races and abilities in celebration of Canadian-made queer film, aiming to challenge attitudes and change lives. Taking place over 11 days, the Festival draws crowds of 35,000 to screenings, artist talks, panel discussions, installations and parties that highlight more than 150 films from Canada and around the world.
Where: In-person & Virtual
When: May 26 to June 5, 2022
11. Kensington Market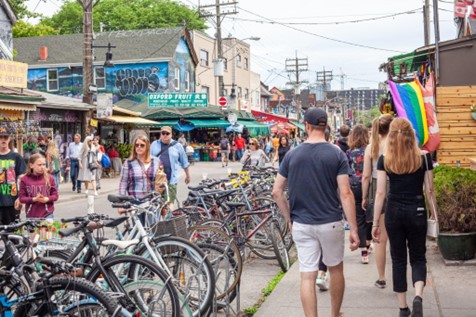 Kensington Market is one of Toronto's most unique and interesting neighbourhoods, so you have to pay it a visit. Lucky for you, the neighbourhood begins its annual Pedestrian Sundays on May 29 and it's exactly what it sounds like: a completely pedestrian-friendly, vehicle-free Sunday! Explore everything Kensington Market has to offer with ease: vintage shopping, hipster coffee shops and restaurants, colourful, fresh produce and multicultural markets. We promise, there's something for everyone.
Where: Kensington Market
When: Pedestrial Sundays run from May 29 to October 30, 2022... But you can visit any day of the week!
12. Visit Casa Loma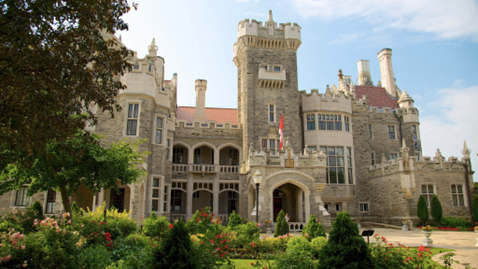 The beautiful architecture, the stunning gardens and rich history - you need to add Casa Loma to your bucket list when visiting Toronto. Walk through the great hall, explore any of the 10,000 books in the library on the main floor, or climb up the many staircases to take in the breathtaking views of the Toronto skyline.
Where: 1 Austin Terrace, Toronto
13. Enjoy a Summerlicious Meal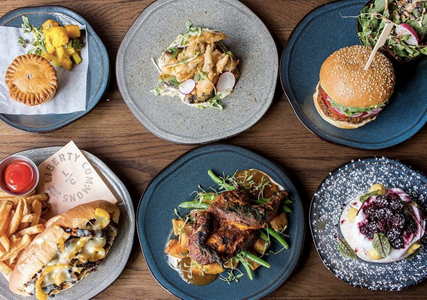 Summerlicious is a great way to discover Toronto's diverse cuisine while on a budget. After a two-year hiatus due to the COVID-19 pandemic, over 200 top restaurants will participate in this culinary celebration starting in August. 3-course prix fixe menus are offered at $23, $28, and $33 at lunchtime and at $33, $43 or $53 during dinner time.
Summerlicious is one of the city's most popular foodie events, with restaurants attracting up to three or four times more diners, so make sure you make your reservations early! About 200,000 meals are served during the festival.
14. CN Tower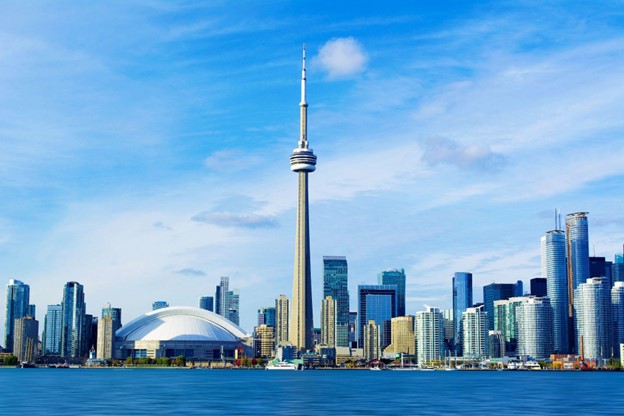 This famous skyscraper has an activity for everyone: Take in the view from the LookOut Level, walk on air on the Glass Floor, and check out the views from the highest perch of all: the SkyPod at 1,465 feet above the city.
If you'd rather sit down and forget how high off the ground you are, book a table at the famous 360 restaurant. But if extreme thrills are your thing, then book an Edgewalk experience, a full-circle, hands-free walk around the SkyPods outer ledge.
Where: 290 Bremner Blvd, Toronto
15. Brunch Buffet & Train Ride
If you're willing to venture just outside of Toronto, the York-Durham Heritage Railway is hosting a brunch buffet train ride, with lavish spreads of sweet and savory favourites served with unbeatable views. Starting this May and into the summer, enjoy the springtime sights from your seat on the train while sipping on a bubbly mimosa.
Where: 19 Railway St, Uxbridge
Buy tickets
If you're lucky enough to be visiting Toronto in the summertime, take advantage of everything it has to offer. Get outside, see the sites, visit the attractions, and try all the food. It will definitely be time well spent and you'll find yourself planning your next visit.
For the best accommodations, Premiere Suites is Canada's most-trusted provider of long-term suite rentals, with fully furnished executive suites in all the desired neighbourhoods from coast to coast.
Call our community experts today and ask about our summer rate specials
Categories
Tags
2022 activities GTA summer Toronto