10 things to do in Vancouver this summer
Posted on Tuesday, May 31 2022
Sources: https://destinationlesstravel.com/vancouver-in-summer/ and https://www.fruitfulloffices.ca/2018/09/01/51-vancouver-venues-to-hold-a-staff-party/
There are few places that are more vibrant and buzzing than Vancouver in the summer. With endless waterways, mountains and beaches accessible from any part of the city, you will rarely find a reason to stay inside. Even for the less outdoorsy types, the city is rich with hangout spots and neighbourhoods that reflect its multicultural and modern aesthetic. It also never gets too hot –the summer is generally mild and gentle. Vancouver brings the heat while rarely having you break a sweat, making it a fabulous summer destination.
1. Perfect weather for patio hopping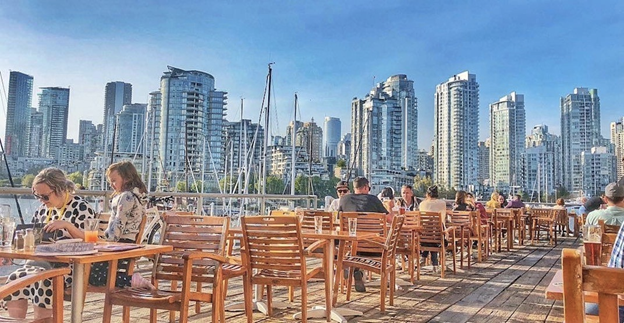 With all the quays, inlets and beaches in and out of metro Vancouver and patios that feature gorgeous views of the water, patio-hopping is a must for visitors. There is a patio for every mood and occasion: a romantic dinner at a fine dining restaurant, a breezy cool-off at a brewery, or a food adventure courtesy of ethnic street food joints. There's a new spot to explore every day.
Hot spot: Brewer's Row in Port Moody
Brewer's Row consists of five breweries all within five minutes of each other that overlook the Rocky Point Park, just minutes away from White Pine Beach. After a long day at the beach, visit these breweries and sip on some of the city's local brews.
2. Visit Stanley Park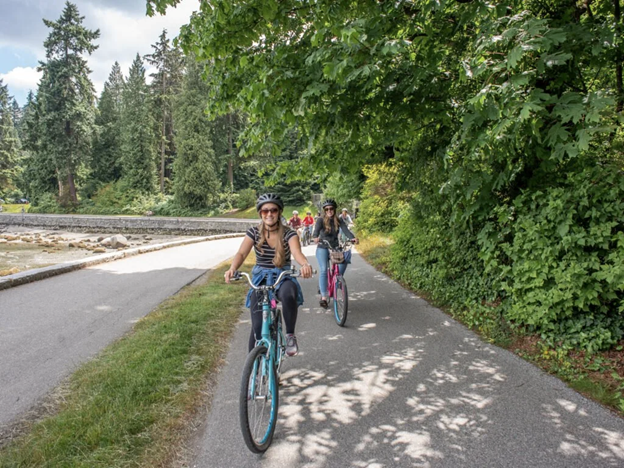 A Vancouver landmark that you simply cannot miss, the 405-hectare public urban park is packed with activities to the brim: beaches, hiking trails, a waterpark, and even a pool and the Vancouver Aquarium. Stanley Park is also an attraction for sports lovers, with a 1,200-yard golf course, numerous public tennis courts and a rowing club that also spearheads field hockey, yachting and rugby activities.
Hot spot: Stanley Park Seawall
This 28-km waterfront path outlines the city, with a 10-km loop outlining Stanley Park. You can bike across the seawall, take a morning jog, or simply walk for some tranquillity while you bask in this fresh air-filled attraction.
3. Experience the city with a paddleboard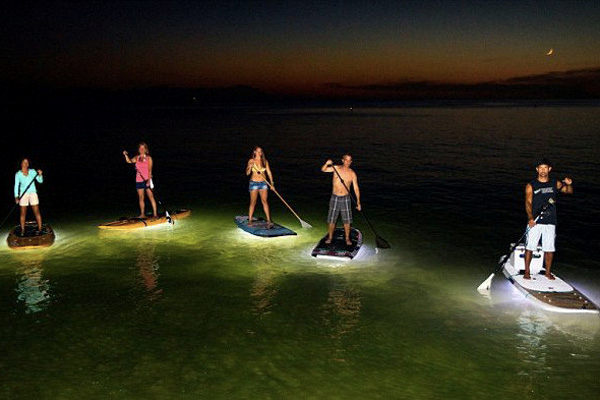 Glide through the beautiful lakes and creeks of Vancouver on a standup paddle board, providing you with the ultimate relaxing experience. Nothing beats seeing the city from on the water, and you can explore English Bay, False Creek, Spanish Beach and Jericho Beach thanks to the numerous paddle boarding rental centers in the metro area.
Hot spot: Deep Cove
Located east of North Vancouver, paddle boarding takes a more relaxing turn as you explore the Indian Arm Provincial Park at the base of Mount Seymour in Deep Cove. You'll also get to try the world-famous Deep Cove Honey Doughnuts! Get a nice core workout from paddle boarding, then indulge in this unique food experience (or vice versa).
4. Chinatown neighbourhood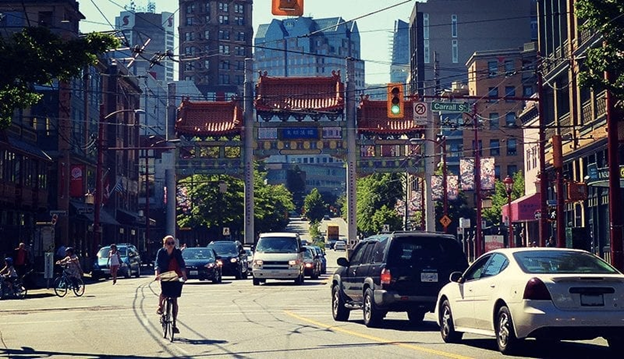 Vancouver's Chinatown is the largest in Canada. It boasts a rich history that is an integral part of Vancouver's multicultural identity. The six-block neighbourhood has a unique blend of historical architecture with modern sensibilities thanks to retail stores and restaurants that have brought avante-garde concepts while staying true to its Chinese heritage. Two main attractions highlight Chinatown: Dr. Sun Yat-Sen Chinese Garden, which was named the World's Top City Garden by National Geographic, and the Vancouver Chinatown Festival, which is held in August.
Hot spot: Chinatown Historic Tour
Curated by "the Chinatown girl" Judy Lam Maxwell, the Chinatown Historic Tour gives you exclusive access to all the heritage buildings, the clan and country association buildings, as well as the 100-year-old Asian fusion restaurant, Sai-Woo. To cap it off, Judy offers a dumpling-making lesson after a long day of sightseeing.
5. Indoor Climbing at The Hive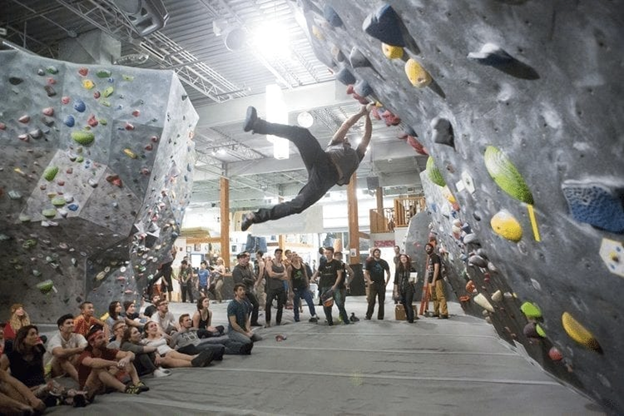 For all the outdoor thrills Vancouver affords, there is a place for the faint of heart who want to give mountain climbing a try. The Hive is a great place to experiment with climbing in an indoor setting, guided by instructors who welcome all levels. The venue offers group plans, as well as age-appropriate activities for kids and teens.
Hot spot: North Shore branch
With locations across metro Vancouver, it's worth visiting The Hive branch in North Shore to explore areas outside the city center. You can take the Seabus from Downtown Vancouver and enjoy a short ferry ride across the Burrard Inlet.
6. Rappelling at The Dropzone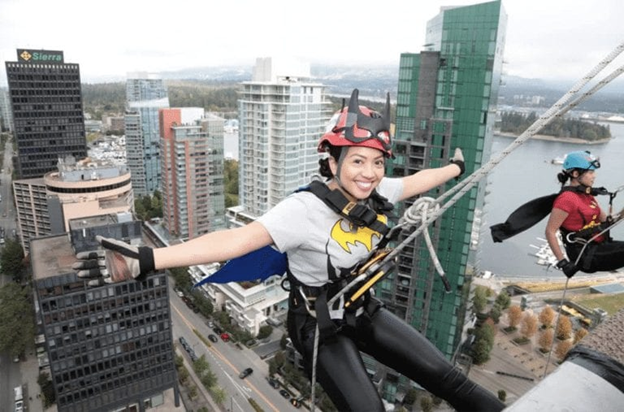 For all adrenaline-seekers, the DropZone is a must. Participants rappel over the top and down the side of a 25-storey office building in the heart of downtown. Not only that, but the thrill is all for a good cause: participants pay or raise a minimum amount in support of Easter Seals, a shelter that houses more than 100 families and children a night.
Hot spot: Cardero's
After the DropZone, you can unwind at many of the spots along the docks of Coal Harbour. A Vancouver staple is Cardero's, where you can enjoy the best mountain and inlet views while feasting on world-class surf and turf delicacies.
7. Visit Playland, Vancouver's iconic amusement park
After a two-year hiatus due to the pandemic, Vancouver's flagship amusement park is back. Playland offers more than 30 rides that cater to families and kids, as well as rides for thrill seekers looking for more adventurous fun.
The Beast is "Canada's most extreme pendulum ride, where you'll be swung 120° in either direction, reaching heights of nearly 12 storeys, all while flying 90 km/hr in a seat that spins you 360°." Phew!
Hot spot: Street food heaven
While you obviously go for thrills and fun, you cannot miss out on all the laid-back, tasty food options at Playland. The Playland mini-donuts are especially popular!
8. Hike to Quarry Rock
Vancouver is arguably a hiker's dream. With over 130 hiking trails in larger Vancouver to over 6,000 across British Columbia, the opportunities to embrace nature are endless.
One of the more popular hikes is Quarry Rock, seeing its ease in terms of elevation and short duration. The hike begins at the Baden Powell trailhead in Deep Cove and winds its way through Cove Forest. The trail also crosses six creeks with bridges over each. Dogs are also allowed!
Hot spot: Cafe Orso
This cafe with a European flair serves local food and beer on tap. You can also take a picture with the bear the owners have outside.
9. Explore Granville Island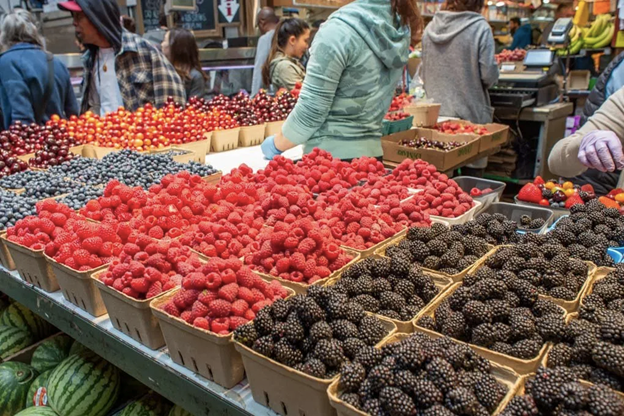 A cute shopping district across from Downtown Vancouver, Granville Island offers an eclectic repertoire: breweries, restaurants, antique shopping, clothes shopping and a fresh market for everything local. You can board a water taxi to get there from downtown.
Hot spot: The Improv Centre
It is never a bad idea to go out for some laughs and drinks. The Improv Centre in the heart of Granville Island is Vancouver's home for live comedy shows, with outrageous theatrical and musical productions headlined by seasoned comedians.
10. Visit Capilano Suspension Bridge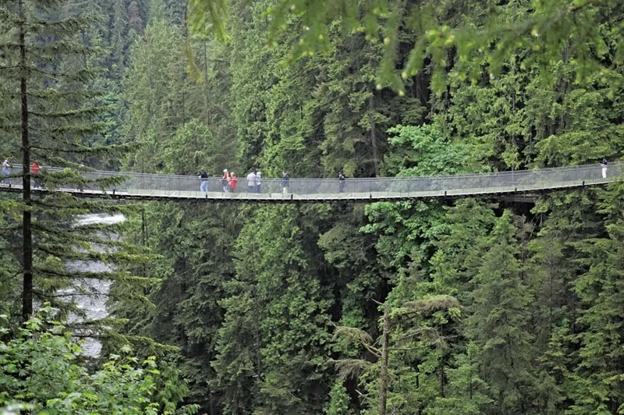 This is another site where you can appreciate the breathtaking nature that makes Vancouver so special. Crossing the Capilano River, the Capilano suspension bridge is a 460 feet long bridge suspended at 70 metres in the air. Take a trip up to enjoy the panoramic views of the canyon and river!
Hot spot: Cliffwalk and Treetops Adventure
Though the suspension bridge is often the main attraction, make sure to check out the Cliffwalk, a cliffside journey that takes you through the rainforest plant life on suspended walkways jutting out from the cliff above the river. Treetops Adventure takes guests 110 feet into the mid-story of a coastal rainforest on seven suspension bridges attached to trees. This may not be for the faint of heart, but it's worth a second thought!
Planning a long-term stay in Vancouver means planning to explore all it has to offer. You don't want to miss out on these one-of-a-kind activities that are meant to be experienced under the Pacific Coast sun. For the best accommodations, Premiere Suites is Canada's most-trusted provider of long-term suite rentals, with fully furnished executive suites in all the desired neighbourhoods from coast to coast. Premiere Suites offers an extensive array of furnished condominiums and townhomes that cater to all your lifestyle and budget needs.
Call our community experts today and ask about our summer rate specials
Tags
2022 activities summer Vancouver