10 Fun Winter Activities in Calgary for Newcomers
Posted on Monday, January 31 2022
Ice Skating at North Glenmore Park or Bowness Park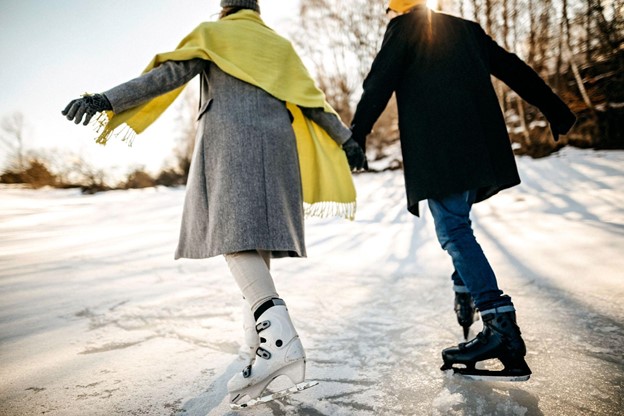 Ice skating is a great way to get out and enjoy winter. Whether you're with friends, your romantic partner, the kids or by yourself, it's always a pleasure to lace up the skates and breathe in the fresh air. One of the best places to go skating in Calgary is North Glenmore Park in the southern part of the city. There, you'll find a 730-metre ice skating trail that connects to a skating rink so you can get both experiences in one convenient location. Another great place to go is Bowness Park to the northwest, where you can skate the 1.6-kilometre trail or rent ice bikes.
Enjoy RiverWalk and Peace Bridge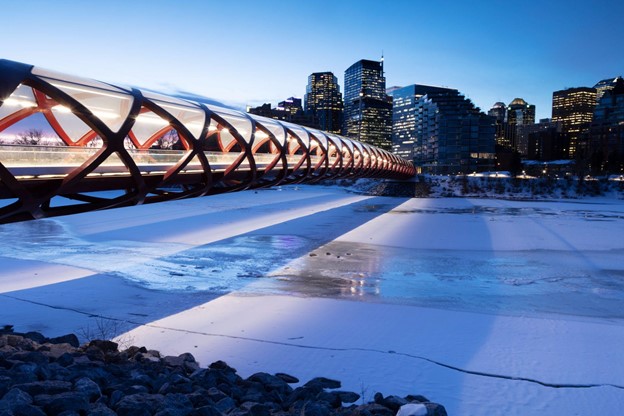 If you'd prefer to keep your boots on, there are plenty of great places in the city to explore on foot. RiverWalk runs along the Bow River that cuts right through the heart of downtown Calgary and connects to Prince's Island Park and St. Patrick's Island. Both of these greenspaces are well worth the trip, no matter what time of year it is. And why not walk across the Peace Bridge while you're at it. This unique bridge accommodates pedestrians and cyclists and is a great way to get from one side of the river to the other to keep exploring all the city has to offer.
Catch a Calgary Flames game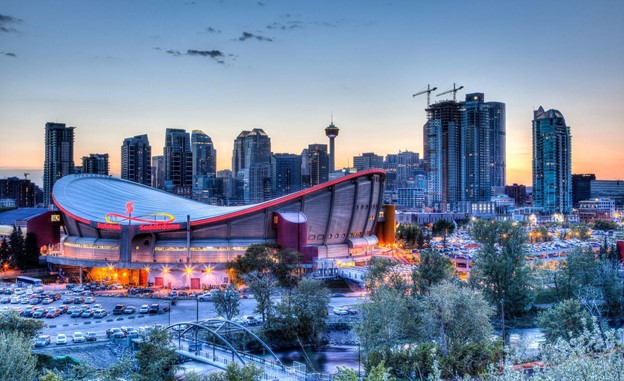 There are few things better than watching an NHL game in person. Watching the games on TV doesn't do it justice. The players' athleticism and skills are on full display when you see a game live. And with a passionate fan base, the atmosphere at a Flames game is sure to be great, no matter who they're playing. Plus, tickets are affordable whether you're going by yourself, or you're bringing along friends or family members.
Explore Lake Louise at Banff National Park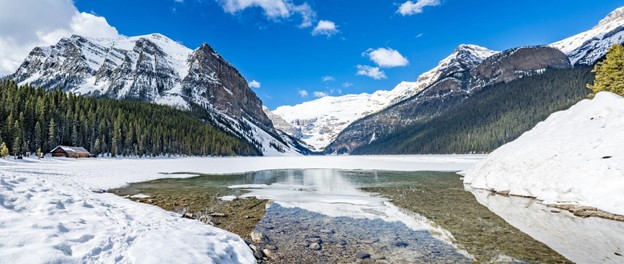 There's nothing quite like Banff National Park. The breathtaking mountains. The vast forests. And Lake Louise is a truly wonderful sight to behold. On a clear summer's day, the turquoise water reflects the amazing natural scenery that surrounds it. While the lake will be frozen over in the winter, the landscape is no less impressive. And for those skiers and snowboarders, Lake Louise Ski Resort is close by so you can admire the view while enjoying some of the best trails in Canada.
Family Tubing at Mount Norquay Ski Resort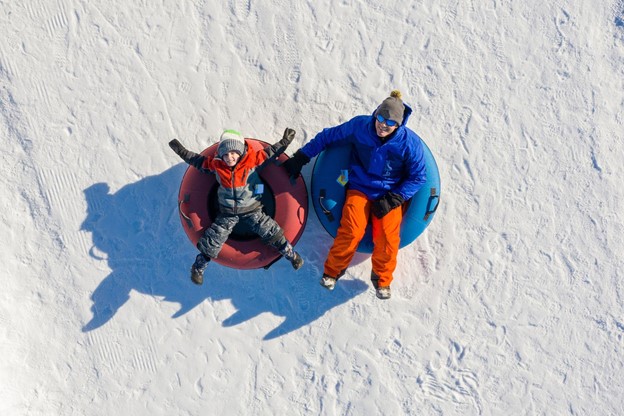 Not a skier? Not a problem. Everyone can enjoy an afternoon of tubing! Norquay Ski Resort has some fantastic tubing trails for an affordable price so you can take the whole family for the day. Located in the Rocky Mountains, these trails are steep, long and fun without being too scary for young kids. Plus, the tubes are provided so all you need to do is make sure you dress warm and are ready for some mountain fun!
Ride a Fat Tire Bike in the Snow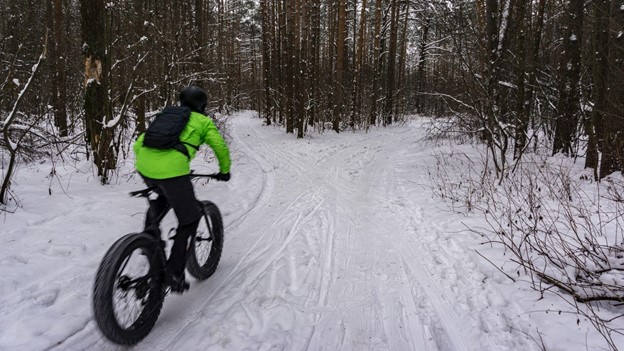 Fat tire biking is a great way to get outdoors during the winter. You're outside, active and you can explore larger areas than you could on foot. Lightweight frames and wide, stable wheels makes cycling in the city a treat. Explore the bike trails on Prince's Island Park or along the Bow River Pathway. They're a great way to see more of the city on your trip.
Go Cross Country Skiing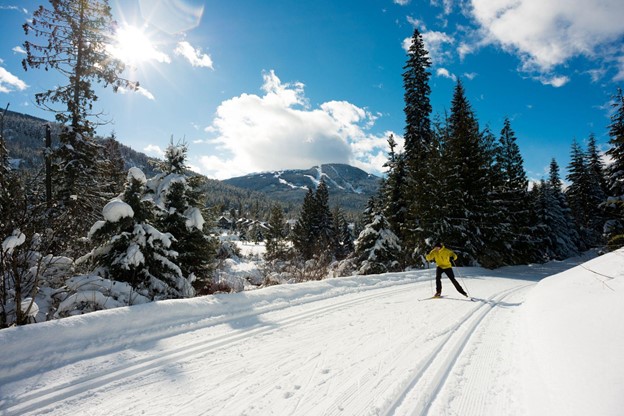 Looking for another way to work up a sweat while you're in town? Go cross country skiing! There are over 25 kilometres of groomed cross-country ski trails in the city, making it a great place for beginners and experienced skiers. You're also less than two hours away from some of the best cross-country skiing trails in the Rocky Mountains. Don't worry if you're a light traveler. You can easily rent cross-country skis from a couple of different locations around the city if you'd prefer not to bring your own.
Meet Wolfdogs at Tamnuska Wolfdog Sanctuary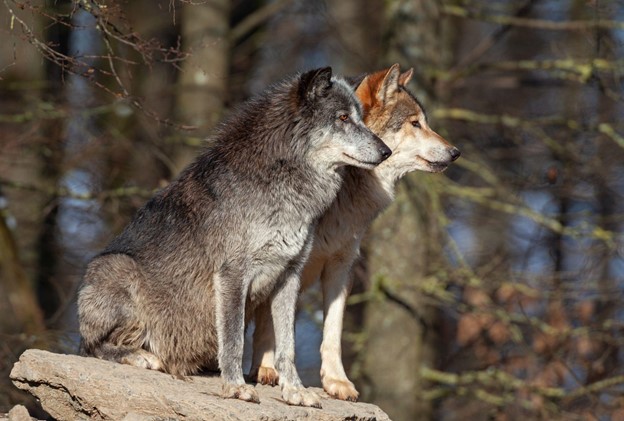 If you're looking for something more exotic, head to the Tamnuska Wolfdog Sanctuary in Cochrane, just northwest of Calgary. With 34 permanent wolfdogs on site, you'll learn all about the origins of the rare breed and the importance of wolf conservation. The sanctuary offers a 30-minute intro tour with a wolfdog expert so you can see these beautiful animals from a safe distance.
Gaze at the Rocky Mountains from Banff Gondola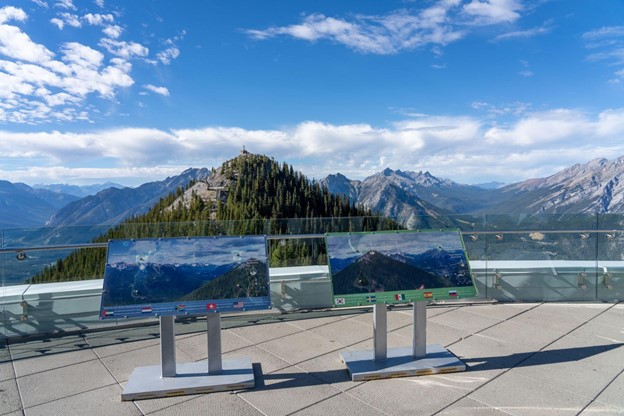 Experience the rocky mountains without breaking a sweat. The Banff Gondola offers incredible panoramic views of the town of Banff and the Canadian Rockies year round. It only takes eight minutes to travel almost 75,000 feet (2,300 metres) to the observation deck. From there, you can enjoy a meal at the Sky Bistro or Northern Lights Alpine Kitchen. For those that do want a little exercise, there are hiking trails from the top of the mountain.
Road Trip Along the Icefields Parkway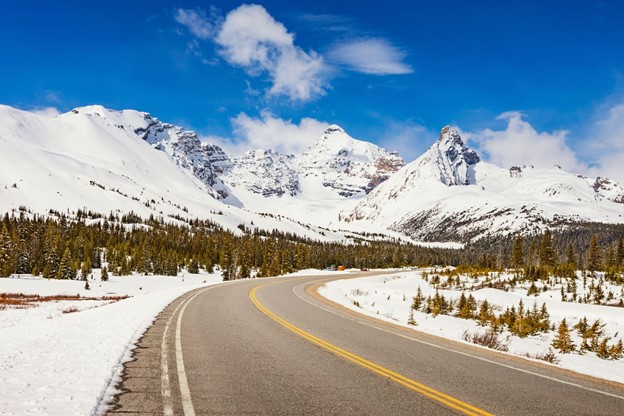 If the roads are in good condition, it's well worth it to take a drive along the Icefields Parkway from Banff National Park to Jasper National Park. Along the road are more than 100 ancient glaciers, dramatic mountains and thick forests. Plus, there are plenty of places to stop and stretch your legs, like the Glacier Sky Walk or the Columbia Icefield. Make sure to bring your camera because you'll see plenty of natural wonders you won't want to forget.
Tags
Activities Calgary Fun Newcomers Winter