10 Fun Outdoor Winter Activities to Do in Ontario During COVID
Posted on Wednesday, January 12 2022
Winter in Ontario is a magical time. There's snow on the ground and the cold air gives everyone a rosy glow. Even with the recent public safety restrictions, there's plenty to do in the province that's outdoors and safe. Here are some activities for you to explore alone, with friends or with your family when you visit Ontario.
Gaze Upon The Stars
Few things are as awe inspiring as staring into the sky and seeing the stars light up the night. In particular, winter is a fantastic time to marvel at the heavens, due to the low humidity and early nights. Take advantage of Ontarios' official dark sky preserves at the Torrance Barrens Dark Sky Preserve in Gravenhurst, Muskoka, and the North Frontenac Dark Sky Preserve in the Township of North Frontenac, about two hours west of Ottawa.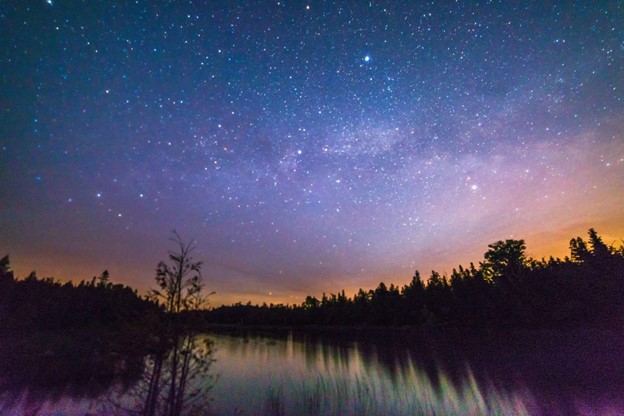 It's also always a safe bet to travel to one of the many beautiful federal and provincial parks located in Ontario. To the northwest, you can enjoy constellations and bright planets from Bruce Peninsula National Park in Tobermory or Lake Superior Provincial Park in Wawa. Wherever you go, bring your binocular or telescope to get the most out of your experience.
Check Out the Northern Lights
Speaking of marvels in the sky, the Northern Lights are a magnificent sight to behold. What many people don't realize is that it's possible to view this magical light show from Ontario, and winter is the perfect time to take it in.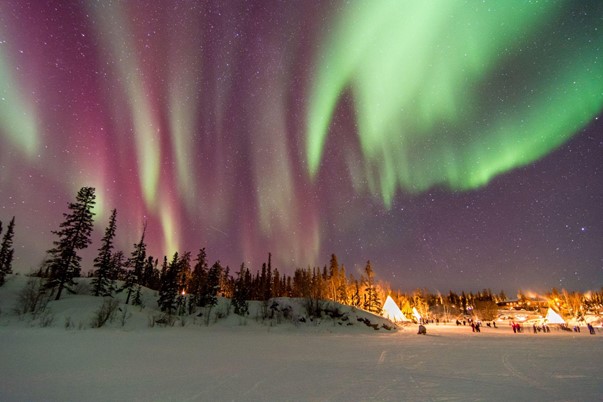 It's generally best to try to see the Northern Lights on a dark, clear night. October to March tend to be the best months of the year to see them since the sun sets earlier, although December and January can sometimes be a little cloudier. You'll also get best results if you wait until the middle of the night, usually 11 pm to 3 am.
Manitoulin Island in Lake Huron gets quiet during the winter months and is a great place to view the Northern Lights. If you're really dedicated, you can travel north to the small town of Chapleau. This remote location to the north will offer many nights of dark skies to give you a great chance of seeing the Northern Lights. Further west there's Quetico Provincial Park, which was awarded International Dark Sky Park certification in February 2021.
Take a Road Trip for Stunning Snowy Views
Who doesn't love a good road trip? The added advantage of going on a winter road trip is that you get to take in all the magic of Ontario's winter landscapes from the comfort and warmth of your car.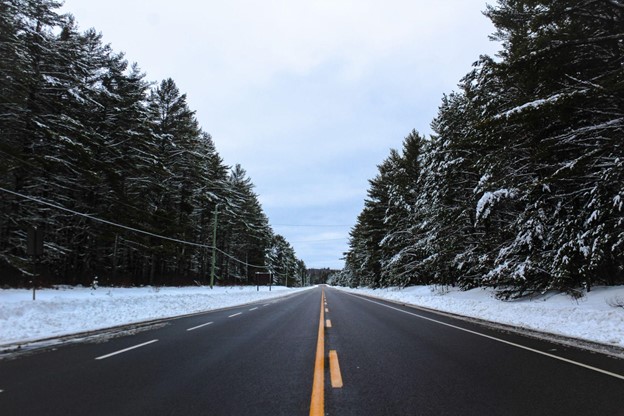 North of the Kawartha Lakes are the Haliburton Highlands that feature beautiful waterfalls, rolling hills and majestic forests. Muskoka is also always a solid choice with quaint little towns to stop at along the way. Northwest of Toronto is the little village of Kimberley, with beautiful parks and lookouts to enjoy the winter scenery. So gas up the car and hit the road!
Go Horseback Riding in the Snow
Imagine galloping through fresh snow on horseback on a crisp January day. What could be more romantic? Not only do you get to enjoy the company of beautiful animals, but you get to enjoy a winter wonderland like the original settlers of the area. Luckily in Ontario, there are several places you can go to get this amazing experience.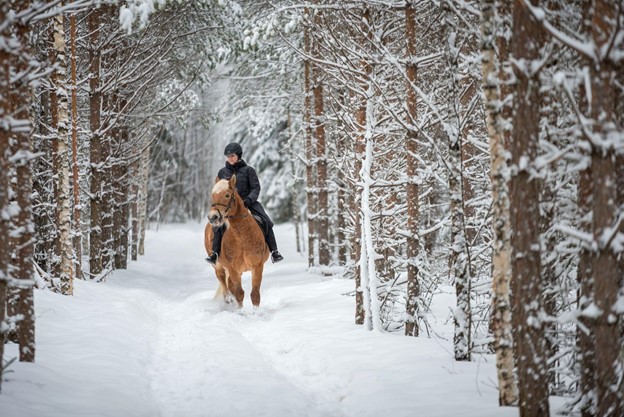 Von Doeler's Ranch in Rutherglen, Ontario, just east of North Bay is a magical place to live out your fantasy of trotting through the woods on horseback. They offer trail rides and lessons, plus you can stay at their beautiful cabins that are just 15 minutes from the ranch.
For something closer to Toronto, check out Pathways on Pleasure Valley. Enjoy a peaceful horseback ride through 225 acres of forest trails. They offer group and private trail rides for any level of rider and even have special packages for "Romantic Rides" and "Engagement Proposal Rides". Giddy up!
Try Ice Climbing
Climbing rock walls in a rock climbing gym is one thing. Rock climbing outdoors in the summer months is another. Ice climbing a frozen waterfall in -20C is an entirely different beast. Definitely not for the faint of heart, this one is for all the daredevils out there.
Located in one of Canada's premier ice climbing areas, Outdoor Skills and Thrills in Thunder Bay is a great place for veterans and beginners. Through their private and group adventures and classes, you can explore the world of ice climbing in Dorion, Red Rock, Nipigon, Orient Bay, and more. Further south, you can gear up at Liv Outside for their ice climbing adventures in Muskoka or the Haliburton Highlands.
Go Dog Sledding
Have you always dreamed of going dog sledding? Make this the year you get out and try it! With many dog sledding options in Ontario, you're sure to find something near you.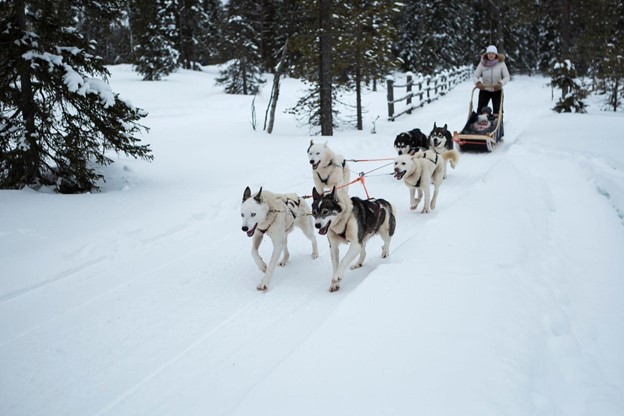 Borealis Sled Dog Adventures in Vermilion Bay offers experiences for all ages, including rides, daytrips and multi-day adventures. Ravens Adventures in Cochrane, Ontario, also offers rides for groups and special events. Explore the Muskoka region in a totally new and unique way with North Ridge Ranch in Huntsville on a half day or one hour tour.
Enjoy the Wonders of Winter Camping
You may think it isn't for you, but there are many different winter camping experiences to be had in Ontario. If you prefer something a little more civilized, like running water and flush toilets, you can try yurt camping in Algonquin, Killarney, and MacGregor Point. There are rustic cabins in Quetico and Sleeping Giant, and you can try booking one of the two cottages at Sandbanks. If those are all booked up, try to get one of the camp cabins at Arrowhead, Killarney, Pinery or Silent Lake.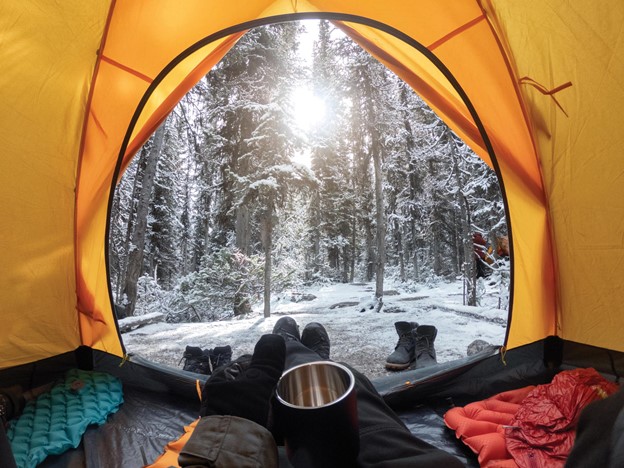 If you want something a little closer to conventional camping, you can go car camping in Killarney, Algonquin - Mew Lake, MacGregor Point and Pinery. If you're more into RV camping, Algonquin Park (Mew Lake) and MacGregor Point are good places to go.
For those looking for a more intense experience, backcountry tent camping is available in Quetico, Algonquin, Frontenac, Kawartha Highlands, Killarney, Wabakimi and Woodland Caribou.
Try a Skating Trail
Ice skating is the quintessential Canadian winter experience. But it can get a little dull skating around in circles for hours. So why not try checking out a popular skating trail in Ontario? These icy paths are maintained trails that let you glide through a variety of scenery and are a lovely way to spend the day.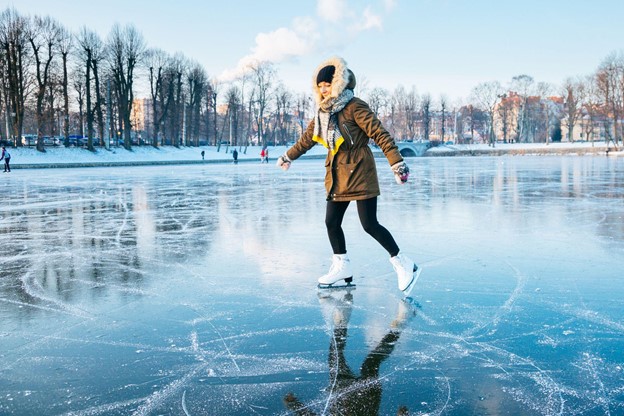 Sault Ste. Marie has a kilometre-long skating path that runs through Clergue Park overlooking the St. Mary's River that runs through the city and is lit in the evenings. Plus, Friday and Saturday night there are trailside bonfires and concessions with hot chocolate, s'mores and more. There's also the 1.3-kilometre Arrowhead Ice Skating Trail through the Muskoka Forest that will have you feeling like you're in a fairy tale. If you're staying up north, check out the Ramsey Lake Skate Path in Sudbury. The path is regularly maintained to create a smooth skating surface and there are heated changing facilities at both ends of the path.
Go for a Winter Hike
Just because the trails are a little snowy, or even icy, doesn't mean you can't do some hiking. Winter hiking is a totally different experience from getting out in the rest of the year and really gets you in touch with nature like nothing else. Put on your crampons or your snowshoes and hit one of the many winter hiking trails in Ontario.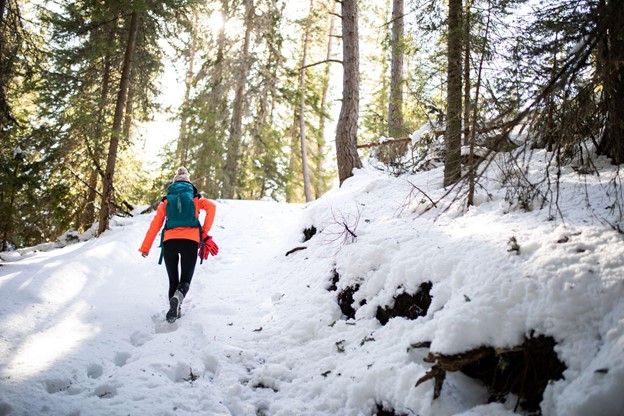 If you're already in the Muskoka region, you should definitely check out Arrowhead Provincial Park for its winter hiking (if you're not already there for ice skating that is). The Stubbs Fall trail is a great route that's not too difficult and has a beautiful waterfall. Bruce Peninsula National Park is another great place to explore in the winter months. The Grotto is a popular summer destination in the park, but it's just as magical in the winter time. If you're looking for something a little more difficult, check out The Crack in Killarney Provincial Park. You'll have to scale some large rocks, but the views are worth it.
Hop in a Snowmobile
There's nothing quite like zipping around the woods in a snowmobile. The freedom, the sheer distance you can travel, the ease with which you can get around. Luckily, Ontario has tons of snowmobile trails all over the province for you to explore.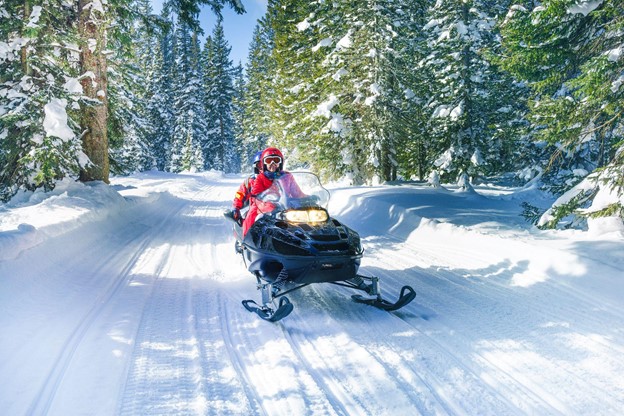 Cochrane has the longest snowmobile season in Ontario, which makes it a top destination for snowmobilers. The area is home to the Northern Corridor, which boasts 1,700 km of well-maintained trails in the area. For something a little less crowded, check out the trails in Elliot Lake. Two hours west of Sudbury, you'll be greeted by beautiful forests and small-town charm. And just three and half hours from Toronto you'll find North Bay, a great location with lots of popular snow tours in the area.
Plan Your Winter Trip to Ontario
With so many great activities to choose from, it's a shame to stay cooped up inside all winter. Book your winter trip to Ontario today with Premiere Suites so you can get out there and experience the colder months in all their glory.
Tags